On a hot Hollywood day, who do you call if you have a sudden air conditioning problem?  Fuji Air, yeah! Hollywood, Florida and surrounding cities can count on our air conditioning repair team to provide prompt, 24-hour service. Throughout the Hollywood, Florida area we have serviced, installed and repaired air conditioners for over twenty years. Don't hesitate to call us whenever your air conditioning system is malfunctioning on nights, weekends, or holidays because we never charge extra
We guarantee accuracy and reliability in all kinds of air conditioning repair, service and installation because of our experience and training.
Air conditioning systems of all makes and models can be serviced, installed, and repaired by our friendly, well-trained technicians. To ensure a proper diagnosis and repair on your AC system, we arrive at your home with the latest tools and equipment. With a guarantee like that, you can count on us to respond rapidly to your air conditioning problems and do the work quickly and accurately.
The Hollywood area has trusted Fiji Air LLC since 1974 for quality air conditioning repair at a fair price. Whenever you need us, we are available 24 hours a day, 365 days a year! On all AC repairs, we offer a 1 year parts and labor warranty. Our work is 100% guaranteed.
On a hot Florida summer day, don't wait until your air conditioner breaks down!  You can avoid costly AC system breakdowns by maintaining your system regularly with Fuji Air. To minimize the risk of costly AC repairs, we designed a 40-point HVAC tune-up.
Are you looking for an AC repair service in Hollywood? For emergency air conditioning repair service, call us or schedule service online today!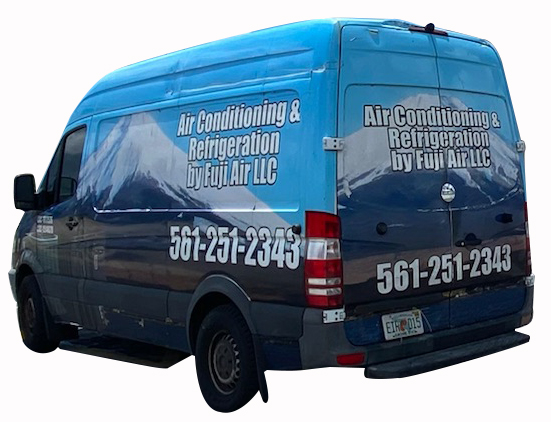 With our extensive experience, we are reliable and efficient when it comes to fixing air conditioner problems. Air conditioning units are no strangers to our expertise, and our professionals are known for their responsiveness and reliability.
Whether you need an air conditioner repaired on a Saturday, Sunday, or Monday, Fuji Air LLC knows that they can fail any time. When your cooling system has a problem, we know you need prompt, dependable service. We recognize the importance of emergency AC repair service, which is why we offer it 24 hours a day, 7 days a week! Whether it's during the week, the weekend, or a holiday, we're the team you can rely on to restore your AC and your comfort, no matter what time of day!
There are two major components to all central air conditioning systems: a condensing unit located outside your home; and an evaporator coil (also called an A-coil) located in the furnace or air handler housing. Heat is transferred from your home to your outdoor condensing unit by the refrigerant in the A-coil. To remove heat from the condenser, a fan blows outside air through the condensing coil. In addition to the condensing unit, the compressor is also housed in it, so it must be replaced by a pro. A-coil parts are not serviceable by Do It Yourselfers.
A capacitor is present in any air conditioning system. Both compressor and condenser fan motors receive an extra boost of power when the capacitor stores electricity and releases it during startup. In addition, it prevents damage to the condenser fan motor and compressor by smoothing out voltage fluctuations.
 Thermostats and AC units are built with delay features that enable them to be powered back on after being shut down. You may experience a 10-minute delay. Your local power utilities may also take a longer time to reset your energy-saving device if you subscribe to one.
We're proud to be a leading choice for AC repair for the Hollywood area. To schedule air conditioning repair or service, simply contact us.
 Our air conditioner repair service is available 24/7 as a part of our Essential Business status. For the protection of our customers & employees, we've exceeded CDC requirements.
Choosing a company with a stellar reputation for HVAC repair service is vital if you want the problem solved once and for all. As Hollywood's most trusted HVAC service contractor, that's what you get with the air conditioning repair solutions from Fuji Air Conditioning.
 We at Fuji Air Conditioning specialize in providing top-rated air conditioners and professional service to ensure that our customers enjoy a comfortable and cool living environment. Fill out our brief online quote form to request additional information now or call us to learn more about what we have to offer!
 To ensure your safety while traveling on our roads, we remain open during these difficult times. In order to ensure your safety and well-being, we have set high standards for preventing COVID-19 in line with CDC/WHO guidelines. Please contact us if you have any questions or concerns.